Hygiene Stations for the Food Industry: Ensuring Safety and Quality
Views: 46 Update date: Sep 04,2023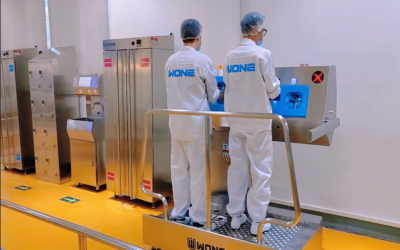 Hygiene stations prevent the spreading of undesired substances or transmission of germs from the outdoor area into clean production areas.
The food industry plays a crucial role in our daily lives by providing us with nourishment and sustenance. With the increasing demand for safe and high-quality food products, it is imperative for food establishments to prioritize hygiene and sanitation. This is where hygiene stations come into play, serving as a fundamental component of maintaining cleanliness and preventing the spread of contaminants.
Hygiene stations, also known as sanitation stations or hygiene centers, are designated areas within food establishments where employees can maintain the highest standards of cleanliness. These stations typically include a combination of handwashing sinks, sanitizers, glove dispensers, and other necessary equipment for maintaining hand hygiene.
The Importance of Hand Hygiene
Hand hygiene is a critical aspect of maintaining food safety and preventing the transmission of foodborne illnesses. According to the World Health Organization (WHO), proper handwashing reduces the risk of infection by up to 40%. Foodborne diseases can cause significant health issues and negatively impact an establishment's reputation. Therefore, having appropriate hygiene stations and promoting good hand hygiene practices among food industry workers is essential.
When designing hygiene stations for the food industry, it is essential to consider the specific needs and requirements of each establishment. Some key components that should be included in hygiene stations are:
1. Handwashing Sinks: Handwashing sinks are the cornerstone of any hygiene station. They should be easily accessible, equipped with warm water, soap dispensers, and hand drying facilities. The sinks should be designed to allow for effective handwashing, accommodating both large and small hands.
2. Sanitizers and Disinfectants: While handwashing is crucial, additional sanitizers and disinfectants should be readily available. These can include alcohol-based sanitizers for quick hand disinfection, as well as surface disinfectants for cleaning workstations and utensils.
3. Gloves and Glove Dispensers: Gloves are an essential piece of protective equipment in the food industry. Hygiene stations should include glove dispensers, ensuring easy and immediate access to gloves for food workers. Single-use gloves should be changed regularly and disposed of appropriately to maintain hygiene standards.
4. Personal Protective Equipment (PPE): Depending on the specific tasks performed in the food industry, additional PPE might be necessary. This can include hairnets, aprons, face masks, and safety glasses. Hygiene stations should accommodate the storage and accessibility of this equipment.

Design and Placement Considerations
Efficient and ergonomic design is vital for hygiene stations to maximize their impact. Placement of stations should be strategically located at key points within the food establishment to encourage proper use.
Here are some design and placement considerations for hygiene stations in the food industry:
1. Flow and Accessibility: The layout of hygiene stations should facilitate a smooth workflow, ensuring easy movement for food workers. Stations should be strategically placed near areas where hand hygiene is critical, such as the entrance/exit, food preparation areas, and restrooms.
2. Water Temperature and Quality: Handwashing sinks should be equipped with warm water to promote effective hand hygiene. Additionally, water quality should meet local regulations to avoid any negative effects on hygiene efforts.
3. Adequate Space: Hygiene stations should be designed with enough space to comfortably accommodate multiple users, preventing overcrowding and promoting adherence to proper handwashing techniques. This is particularly crucial during peak operating hours.
4. Signage and Instructions: Clear and informative signage should be placed near hygiene stations to communicate proper hand hygiene techniques, the importance of PPE usage, and any other relevant information related to hygiene practices.
5. Regular Maintenance: Hygiene stations should be regularly inspected, maintained, and restocked with essential supplies. This ensures their functionality and availability for food industry employees.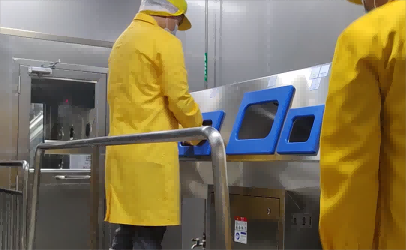 Implementing proper hygiene stations in the food industry offers several benefits, including:
1. Enhanced Food Safety: The primary objective of hygiene stations is to maintain clean and safe food production environments. By promoting and facilitating good hygienic practices, foodborne illness risk is significantly reduced, ensuring the safety of both employees and consumers.
2. Regulatory Compliance: Hygiene stations help establishments comply with local and international food safety regulations. Regular handwashing and the provision of necessary equipment demonstrate a commitment to maintaining hygiene standards.
3. Improved Employee Morale: Hygiene stations create a positive work environment by prioritizing employee health and safety. When employees feel cared for, their morale improves, leading to increased productivity and job satisfaction.
4. Customer Confidence: The presence of well-designed hygiene stations and proper hand hygiene practices instills customer confidence in the establishment. This can lead to increased customer loyalty and positive word-of-mouth recommendations.
5. Mitigation of Contamination Risks: By providing access to necessary tools and equipment, hygiene stations help mitigate the risk of cross-contamination. This is crucial in preventing the spread of allergens and potential contamination issues.
Conclusion
In the food industry, where safety and quality are of utmost importance, hygiene stations play a crucial role in maintaining cleanliness and preventing the transmission of contaminants. By prioritizing proper hand hygiene, providing necessary equipment, and implementing efficient design and placement strategies, food establishments can ensure a safe and hygienic environment for both workers and consumers. Investing in hygiene stations demonstrates a commitment to food safety, regulatory compliance, and customer satisfaction.
Next: Let the shoes drain and dry during the Bakery enterprise