Let the shoes drain and dry during the Bakery enterprise
Views: 46 Update date: Aug 21,2023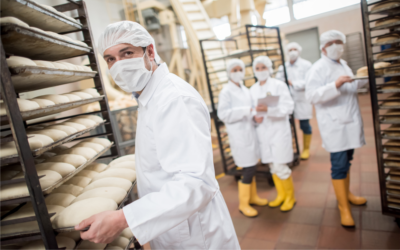 In the fast-paced world of a bakery enterprise, cleanliness is of utmost importance. Maintaining a hygienic and sanitary environment not only ensures the production of high-quality baked goods but also promotes the well-being of both employees and customers. While much attention is given to the cleanliness of the baking equipment and workspaces, one crucial aspect often overlooked is the regular cleaning and drying of shoes worn by the bakery staff. This is where the shoe cleaning machine comes into play, offering a convenient and effective solution to maintain a clean and bacteria-free environment.
Bakery workers are constantly on their feet, moving swiftly to fulfill orders and ensure customer satisfaction. In this bustling environment, it is inevitable that shoes become dirty and collect dirt, grime, and flour particles. Without proper cleaning, these shoes can become a breeding ground for bacteria, leading to various health hazards. Furthermore, the accumulation of dirt and debris on the shoes can easily find its way onto the bakery floor, potentially contaminating food products.
The shoe cleaning machine addresses these concerns by providing a thorough and efficient cleaning process. By incorporating specialized brushes and cleaning agents, these machines are designed to effectively remove dirt, stains, and bacteria from shoes. The powerful brushes reach every nook and cranny of the shoe, ensuring a deep and hygienic clean. This not only eliminates the risk of bacterial growth but also helps preserve the longevity and appearance of the shoes.
Another crucial advantage of the shoe cleaning machine is its ability to simultaneously drain and dry the shoes. Too much moisture will increase the humidity of the workshop, and for bakery products such as bread, produced in such an environment, it may lead to salmonella and other contamination, thus affecting its food safety quality. Furthermore, wet shoes not only cause discomfort and odor but also pose a safety hazard in the bakery setting. Slippery floors can lead to accidents, which can halt the production process and potentially result in injuries. By using a shoe cleaning machine that incorporates a drying feature, bakery workers can ensure that their shoes are thoroughly dried before resuming their tasks. This allows for a safer working environment and minimizes the risks associated with wet shoes.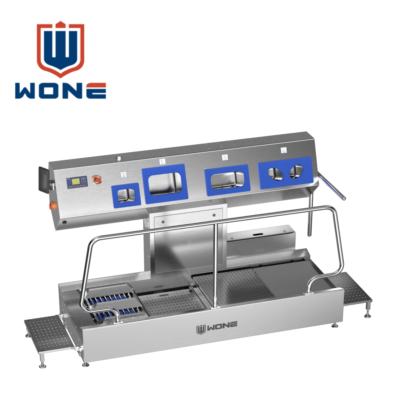 In addition to promoting cleanliness and safety, the use of shoe cleaning machines also instills a sense of professionalism within the bakery enterprise. A clean and organized workspace reflects positively on the bakery's reputation, ultimately attracting more customers and increasing business opportunities. By prioritizing shoe hygiene, bakery owners demonstrate their commitment to maintaining cleanliness and high-quality standards.
It is crucial for bakery enterprises to invest in high-quality shoe cleaning machines, ensuring their staff has access to this essential tool. By incorporating these machines into the daily routine, bakery workers can take pride in their appearance, knowing that they are taking necessary steps to maintain a clean and safe working environment. Whether it is removing dirt or preventing the spread of bacteria, shoe cleaning machines play a vital role in the overall cleanliness and success of bakery enterprises worldwide.
In conclusion, shoe cleaning machines are an invaluable asset for bakery enterprises. They not only ensure the shoes are thoroughly cleaned and free of bacteria but also facilitate quick drying, minimizing safety risks. By investing in shoe cleaning machines, bakery owners demonstrate their commitment to maintaining hygiene and professionalism within their establishment. So, let the shoes drain and dry during the bakery enterprise, and ensure a clean, safe, and productive working environment for all.
Prev: Hygiene Stations for the Food Industry: Ensuring Safety and Quality
Next: the importance of boot cleaning for slaughterhouse