PHB-21T Hygiene Station
The PHB-21T hygienic entrance system includes an automatic hand disinfecting unit, a footwear disinfection basin with drip zone. It guarantees fast and efficiently optimal personal hygiene.
Product Details
Technical Parameters
Order Guides
Hygienic Entrance with Hand Disinfection and Sole Sanitization
Hand Disinfection + Sole Disinfection + Turnstile
When worker step into the dip-tank for soles disinfection, simultaneously, he can disinfect his hands. After that, the turnstile will open. The entire process only take 3~4s.
Features and Benefits:
1, High throughput capacity.
2, Walk through type, sole disinfection and hands disinfection at the same time.
3, Entirely stainless steel 304 finished.
4, Left and Right version available.
5, Sensor operated hands disinfecting unit.
6, Sole disinfection basin auto refresh and chemical dilution ratio control.

Sole Disinfection Basin with Drip Zone
7, Disinfection basin auto refresh & interval settable.
8, Sanitizer dilution and mixing ratio control, supplement.
9, Liquid level adjustable by move up or down stainless steel grid.
10, Drip off zone for water draining, avoid spilling.

Hands Disinfection
11, Simultaneously while sole disinfection.
12, Chamber with light.
13, Chamber with plastic front panel, hands protection.
14, Chamber corners are rounded, easy cleaning, sloped bottom.
15, Stainless steel nozzles are delicate designed and state-of-the-art craft, good atomization of disinfectant.

Turnstile and Access Control
16, Turnstile will be released only after hands disinfection.
17, I-CLEAN Controller with various protection such as chemical lacking, motor overload etc.
18, I-CLEAN Controller enable user set sanitizer dose and dilution percentage.
19, Card reader, Face ID etc. monitoring system can be integrate into the I-CLEAN Controller.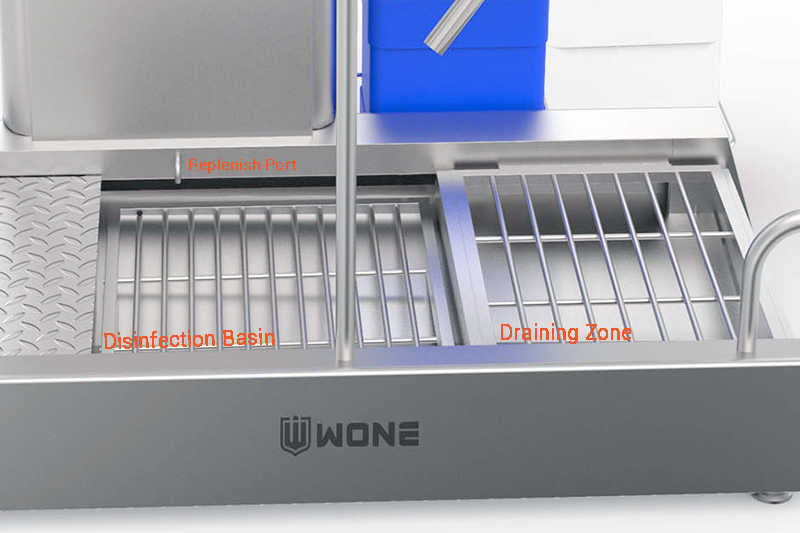 | | |
| --- | --- |
| Model | PHB-21T |
| Performance | 4s/person |
| Voltage | 220V/50Hz/1P |
| Power Install | 400w |
| Water Connection | 1/2" |
| Water Discharge | 1" |
| Weight | 95Kgs |
| Dimension | 1240*1030*1385mm |
Consumable Chemicals: Hand Disinfectant S3, Boot sanitizer B6
Inquiry Now
Can't find the specific information you're looking for? Have a question ? Contact Us