WONE Solution in the slaughter and cutting line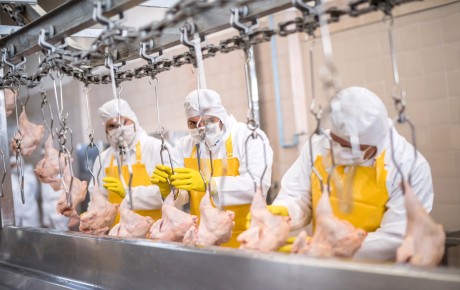 There is a lot of grease and blood on the slaughtering and cutting line, which is difficult to clean and easy to cause pollution. With open plant cleaning,the process machines (conveyor belts, cutting machines, etc.) and surface areas are thoroughly cleaned and disinfected.What is the Wone Solution?
The foam cleaning system is a essential investment for the food enterprise looking to maintain high hygiene standards in their food processing environment. Its practicality, versatility and effectiveness make it an excellent solution for wet cleaning.


The stationary foam cleaning equipment is popular in the meat industry, especially in the cutting workshop and shaping workshop, because it has these advantages:
Large coverage area, which is very important for large slaughter lines
The pressure is more stable because it always comes from the same water source and air source
More data collection, which can analyze the usage of workshops in different periods, and realize slaughtering cleaning efficiency and cost control
In the case of using extended double hose reels, more efficiency can be improved, suitable for large slaughter lines
small foam trolley
Small meat slaughter linse may like it
Flexible movement, can be used in different compartments

No need to use power supply and water source, only air source is needed

During production, no space is occupie

d
Central supply, reducing the occupation of workshop space

Add cleaning points economically

Detergent and disinfectant be controlled securely

Can count the cleaning data of different area

s
Aprons are often used in heavy dirt areas such as meat slaughtering.
Without an apron washer, how can employees clean the apron?
On the ground, there's cross-contamination
In the operating table, it will still cause cross contamination
Rinse directly on your body, which may cause your clothes to get soaked
So, at this point, you need an apron washer