What Are the Features of Ceiling-mounted Air Disinfection Machine?
Views: 296 Update date: Jun 07,2022
Air Disinfection Machines have outstanding performance in disinfection and purification, intelligent control and so on. Air pollution has made more and more hospitals, industries and public places pay attention to air purification, which is one of the reasons for the rapid growth of air purification products. Generally, the Air Disinfection Machine with a price of more than 5,000 yuan is composed of three parts: electrostatic field + photocatalysis + sub-high-efficiency filter. The sterilization and purification effect is remarkable.
Ultraviolet Air Disinfection Machine also known as "light hydrogen ion air sterilizer, UV air sterilizer", can be divided into cabinet type, wall-mounted type, ceiling type, central air-conditioning pipeline type. The advantages are good price and good quality, suitable for commercial environment.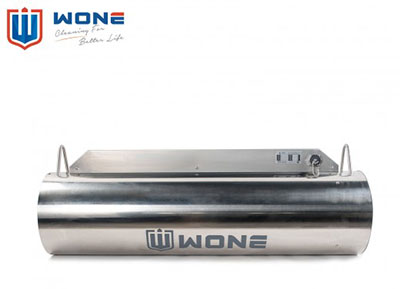 WONE innovative
Air Disinfection Machine
AUT guarantee 7*24hrs air disinfection, the machine combines UV and Ozone modular. UV disinfection in daytime, and ozone function can be active at night when no people inside workshop. The machine covered by stainless steel shell, which means it isolate the UV light and prevent harm employees. 1 high speed fan inbuilt to circulate the air, while air flow through the machine, UV light intensity up to 40000uw can quick sterilize it. Remote control, screen show working conditions, air quality, room temperatuer and moisture. Through the controller, you can flexible set UV or Ozone working time. Timing on or off.
Features:
Ceiling mounted by hooker, quick install or maintenance.
Hygienic design, stainless steel made, automatic welding.
Remote control or cable control.
7*24hrs working support.
2 disinfecting models:
UV light disinfection for daytime.
Ozone O3 disinfection for nighttime or when no human activity.
Kill bacteria, germs, yeast, spores etc.
Precise control of UV intensity and ozone density.
High speed fan inbuilt for ventilation.
Prev: Choose air disinfection machine for removing formaldehyde in the office
Next: Equipped with air disinfection machine, trains can effectively prevent influenza