How to Control Chemicals in the Food Shop
Views: 34 Update date: Aug 28,2023
Introduction:
In the food industry,by using the hygiene station, maintaining high levels of hygiene is crucial to ensure the safety and well-being of customers. Controlling chemicals in food shops is essential in preventing contamination and safeguarding the health of consumers. This article will focus on two key aspects of hygiene management in food establishments: hand cleaning stations and cleaning soles. We will explore the importance of these practices in maintaining a safe working environment and share effective strategies to control chemicals and promote hygiene in food shops.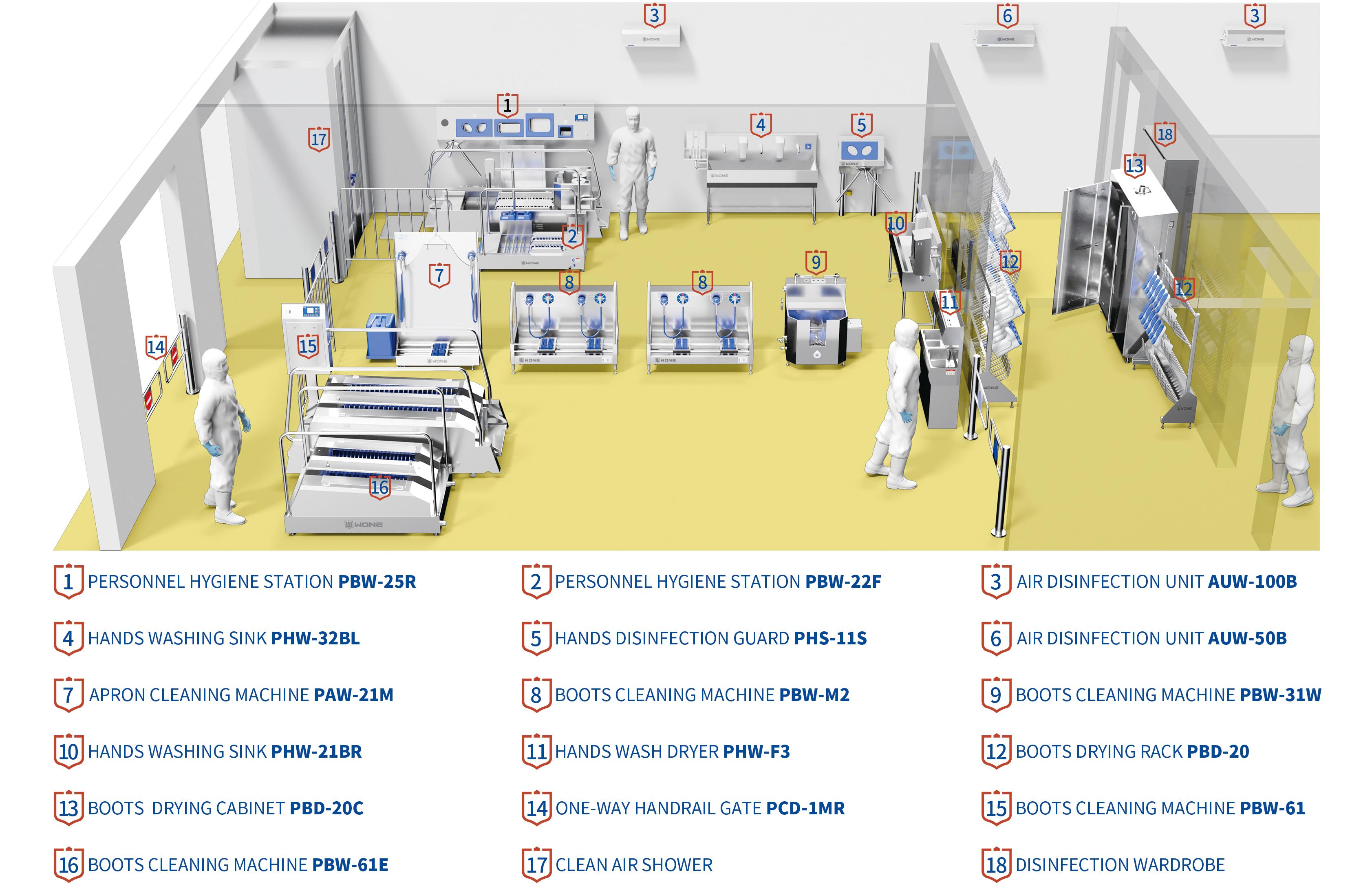 Proper hand hygiene is vital in preventing the spread of bacteria in food shops. Hand cleaning stations play a significant role in ensuring that employees maintain clean and sanitized hands throughout their duties. These stations should include the following essential elements:
Equipping the food shop with an adequate number of handwashing sinks is paramount to ensure that employees have easy access to clean water for handwashing. These sinks should be strategically placed near preparation areas and be easily reachable by all staff members.
2. Soap dispensers:
Handwashing sinks should be equipped with soap dispensers loaded with antibacterial soap. Regular handwashing with soap helps remove dirt, grime that may be present on the hands, lowering the risk of contamination,and it should be locked the chemicals to prevent the wrong use.
3. Hand sanitizers:
Apart from handwashing sinks, hand sanitizers should be installed at various locations throughout the food shop. Alcohol-based sanitizers with a minimum of 60% alcohol content are effective in killing bacteria and disinfecting hands when access to water and soap is limited,and the chemicals should be signed clearly.
4. Signage and education:
Clearly visible signs should be placed near hand cleaning stations to remind employees to wash and sanitize their hands frequently. Additionally, regular training sessions should be conducted to educate employees about the importance of hand hygiene and proper handwashing techniques, to prevent any chemicals residue.
In addition to hand cleaning stations, controlling chemicals and maintaining hygiene in food shops also involves cleaning and disinfecting the soles of employees' shoes. Shoes can carry dirt, and bacteria from outside, posing a risk to the cleanliness of the establishment. Here are some effective strategies to control chemicals and promote hygiene through cleaning soles:
1. Provide dedicated footwear:
Encourage employees to wear dedicated footwear for work, such as slip-resistant shoes or boots. These shoes should be kept clean and used exclusively within the food shop premises to minimize the chances of the contamination from outside.
2. Footwear sanitization: Implement a mandatory footwear sanitization practice before entering the food preparation area. Shoe sanitizing mats or foot baths filled with a disinfectant solution can be placed at entrances to effectively clean shoe soles and reduce the transfer of and contaminants,and the chemicals used should be locked too and the sign is kept.



3. Frequent cleaning routines:
Regularly clean and disinfect the floor surfaces in the food shop to prevent the buildup of bacteria. This will reduce the chances of employees' shoes coming into contact with harmful substances that could contaminate the food preparation area.



4. Staff education and compliance:
Conduct training sessions to educate employees about the importance of cleaning soles and incorporate it into their daily routine. Emphasize the policy of maintaining clean shoes and ensure that all staff members understand and comply with the guidelines,and they also should understand the risk of the overuse of the chemicals.
Conclusion:
Controlling chemicals and ensuring proper hygiene in food shops is a collective responsibility that requires the implementation of effective measures. Hand cleaning stations and cleaning soles play a crucial role in preventing chemical contamination and maintaining a safe and clean working environment. By providing well-equipped handwashing stations and implementing practical strategies to clean and disinfect shoe soles, food shops can significantly reduce the risk of chemicals entering the food preparation area. It is essential to prioritize hygiene to protect the health and well-being of both employees and customers.
Prev: Hygiene Station: Solutions for Personal Hygiene between Production and Other Areas
Next: Combination of Shoe Disinfection and Hand Washing Facilities: The Hygiene Cleaning Station