Multi-Function Cleaning Station, Air Disinfection Unit, Hands Wash Dryer
Multi-Function Cleaning Station,Air Disinfection Unit,Hands Wash Dryer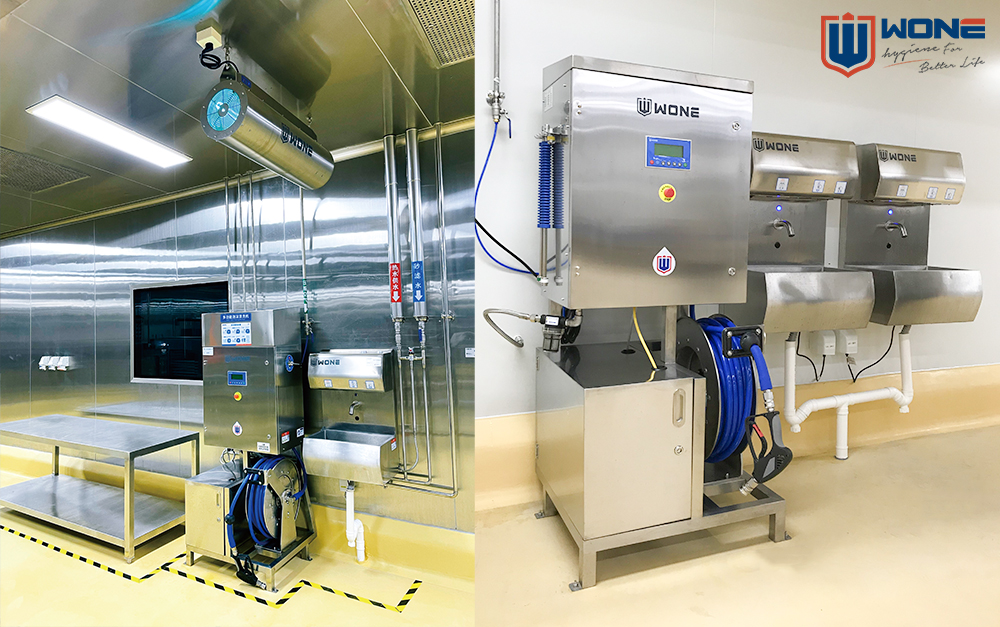 Multi-Function Cleaning Station
304ss metal form, sanitary grade pipes and fittings which meet the hygiene requirements of food factory.

One - piece steel frame design, automatic welding, beautiful and firm welding.

Integrated design. Integration of hot water, cold water, foam, disinfectiorn and other functions.

Fully automatic control, the use of Wone i-clean controller, remote communication data, with water metering,

operation alarm parameter modification, operation monitoring and other functions. Improve reliability and reduce maintenance cost.
Air Disinfection Unit
Made of 304/316 stainless steel, hygiene design. Automatic welding forming, durable structure.
The internal controller can precisely control the ultraviolet intensity and ozone concentration, with extremely high sterilization function.
Constantly kill bacteria, viruses, yeast and spores and other bacteria, can be in the production process without outside ventilation, keep the indoor air fresh.
Work normally under O °C temperature;Safe use in damp environment; Flexible combination according to the size of the site.
Quick disassembly hook design for easy installation and maintenance.
Efficient air fluid design, quick circulation ventilation.
Hands Wash Dryer
[PHW-F3]Wall-mounted to save space, threefuntions-hand washing, hand disinfection, hand drying.
304ss metal form, Automatic welding. Strong structure. Sanitary design without residual dirt.

Non - contact automatic air and liquid for more health and safety. Foam hand sanitizer is more economical and more uniform.

Waterproof splash design, effectively prevent secondary pollution of hands.

Large storage tank, easy to open the lid to supplement the hand sanitizer.

10 seconds dry hands, Constant temperature system, efficient and comfortable.

Suitable for commercial kitchen, hotel, hospital, school and other small space places.