Cleaning and disinfection of shoes and boots in food factories
Views: 1489 Update date: Feb 07,2021
For the sanitation and safety of food processing, factories must actively prevent pathogens from entering and spreading in the workshop, and prevent cross-contamination that may occur during the food production process. Among them, the cross-contamination problem of shoes (boots) has become more prominent. Before entering the critical area, clean and disinfect the shoes (boots) to reduce the entry of bacteria, mold, and fungi into the workshop.
Cleaning process: work shoes (boots) must be free of fiber shedding, easy to clean, and easy to disinfect. At the same time, it is necessary to add an automatic or manual boot washing machine at the exit of the workshop. Woan's PBW-53 automatic boot washing machine has functions such as induction start and personnel statistics.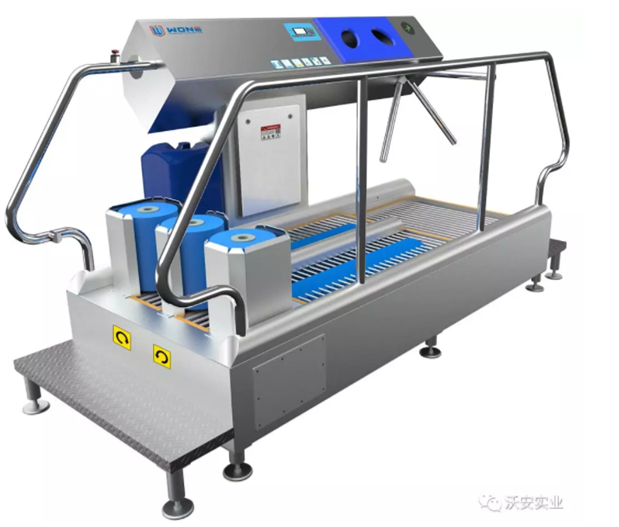 Disinfection process: The automatic shoe and boot disinfection machine generally uses 150-300ppm sodium hypochlorite solution, and Woan's PBD-21 automatic disinfection machine can automatically mix and add disinfectant.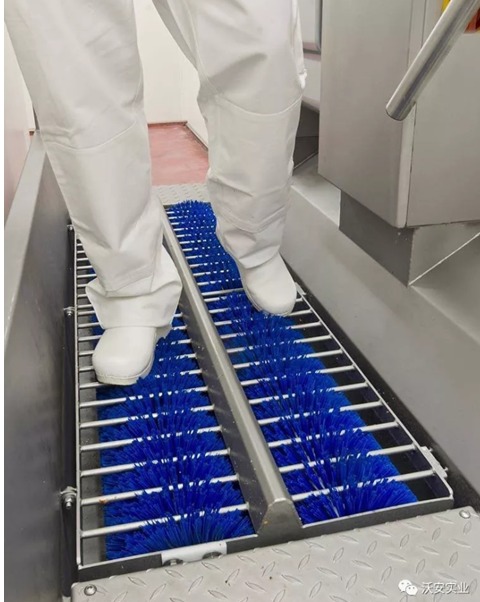 Drying: cleaning immediately after the end of each shift. Wash and dry with a boot dryer, and at the same time use the disinfection function of the boot dryer to disinfect the boots.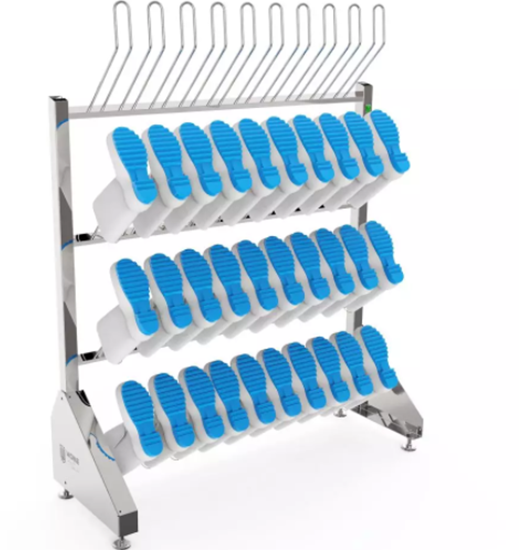 For the detailed parameters and specific selection of the boot washing machine and the boot drying machine, please consult the sales staff of Woan!
---
**Professional cleaning equipment provider, escort for regulated production and food safety.
More information, please contact local Wone service person or visit Wone website.
https://www.wonehygiene.com/
Tel:+86 20 39922700
Fax:+86 20 39922707
Sales hotline:18028004410 -18028004417
After-sales hotline:18026312060 -18026312062
Boot washing machine, shoe drying machine, boot drying machine, mobile phone washing machine, stainless steel hand dryer, stainless steel disinfection wardrobe, personnel sanitation equipment, high-pressure foam cleaning machine, mobile foam cleaning machine, air disinfection machine, sodium hypochlorite generator, chlorine dioxide generator, Ozone disinfection machine, hopper cleaning machine, multi-head scale cleaning machine, food factory special cleaning system, non-standard custom cleaning and disinfection equipment, foam cleaning agent, disinfectant, personal hygiene station, Boots drying rack, Boot cleaning machine, Auto hands washing, High-Speed Hand Dryer.
Prev: Hygienic essentials of meat processing enterprises and high-pressure
Next: An overview of cleaning and disinfection theory in food processing